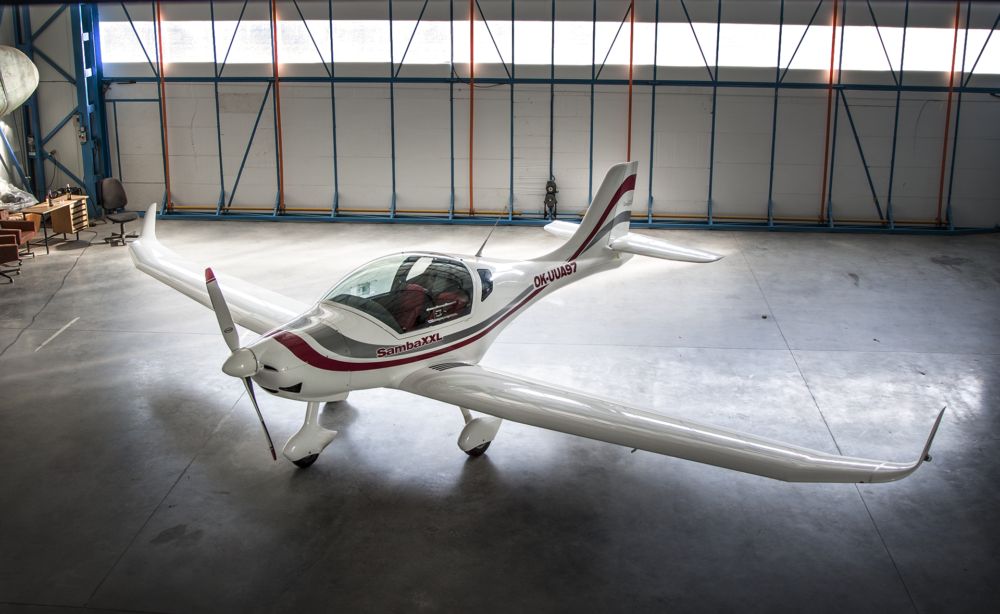 Samba XXL is an airplane of the new generation, characterized by excellent, fashionable and perfectly aerodynamic design. Samba XXL is also characterized by brilliant flight characteristics, powered by dynamic operation and considerable climb capacity.
The aircraft Samba XXL is two-seater, single- engine, middle wing with all-composite structure.
The fuselage structure is made of carbon composite. The wings are formed by a sandwich structure and the flanges of the wing are made of carbon rosiny.
There are double- slotted electricaly controlled flaps with a slot.
Wing tanks: 2x 50l
Tricycle landing gear with controlled nose wheel. Hydraulic brakes on main wheels.
Standardly with Rotax 912 engine. Customer request can be installed Rotax 912ULS or Jabiru 2200 engine.
In standard configuration Samba XXL included analog devices. Customer request can be installed lot of kinds of digital devices, GPS and others.
Possibility to instal rescue system Galaxy or Magnum.
Samba XXL can have tow hook installed, you can tow gliders up to 650kg weight.
Wingspan: 10m
Lenght: 6m
Heigh: 2.2m
MTOW: 472.5kg with rescue system
Maximum speed: 270km/h
Cruising speed: 220km/h
Minimum speed: 65km/h
---
---